(Chinhphu.vn) - In the investment promotion of visit Japan, on July 5th, Prime Minister Nguyen Xuan Phuc attended the meeting with big businesses and investors.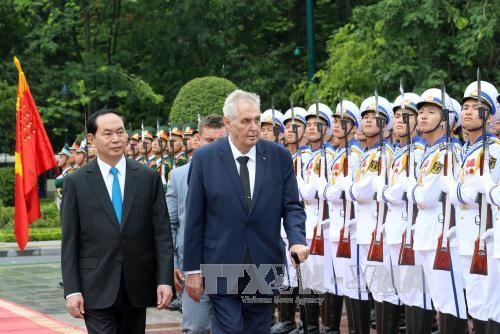 The seminar held by Plan and Investment Ministry and Vietnam Joint stock commercial bank for Industry and Trade (Vietinbank) and Bank of Tokyo - Mitsubishi UFJ (BTMU) of Japan. Participants in the seminar are Mr. Nguyen Xuan Phuc and representatives of leading trade marks and groups of Japan in high tech, electromagnetic, oil, finance, trading and retail dealers such as Canon, Panasonic, Nipro Corporation... The meaning of the seminar is to receive sugesstions or opinions from Japanese investors in order to solve problems and difficulties in investment; that also contributes to economic development policy of Vietnam. Mr. Nguyen Xuan Phuc highly appreciated proposals relating to interior production in Vietnam; promotion of infrastructure development.
He also assumed that this is a good occasion of clement weather, favorable terrain and concord among people for Japanese investors to invest in Vietnam and welcome Japanese enterprises. He requested departments to create favorable conditions for Japanese. Vietnam has available items for Japanese business to be interested in such as national infrastructure, private public projects (PPP) in finance, banking, insurance, reproduction energy, privatization of state-owned enterprises. In electrical field, Vietnam shall sell the shares of 3 general companies of power generation in 3 regions.