To respond the "union house" program by Labor Federation recently, Cai Lay district Labor Federation launched to implement then helping poor workers in the district to work and live in peace and contentment.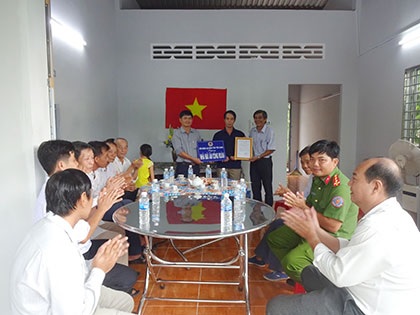 Delivery of "union house" for poor workers
With the goal of grassroots level, the program "union house" has helped timely and practically poor families of members
Recently, the Labor federation of Cai Lay district held a delivery ceremony "Union house" for Mr. Nguyen Van Tri who is a union member of Nhat Toan private enterprise.
According to statistics, up to now, the district has built and handed over 47 "union houses" for union members. Based on the results of actual appraisal, the works of "Union house" meet good quality, ensuring solidity. The results thank to the support of enterprises and union members.
Mr Nguyen Duc Kien, Chairman of the District Labor Federation, said: "In the past few years, the District Labor Federation has paid much attention to the life of the union members. Each "union house" is the solidarity, caring and sharing for poor members. Then this also helps union members to work with a high productivity. Agencies, enterprises and union members contributed to this result.
(Reports: http://tiengiang.gov.vn/vPortal/4/625/1200/108735/Xa-hoi/-Mai-am-cong-doan--giup-nguoi-lao-dong-an-cu--lac-nghiep.aspx)
Author:Pham Thi Ngoc Chon Translator: Nguyen Tran Thai Hoa