On July 19, 2017, in the guest-house of Government, Deputy Minister of Foreign Affairs - Mr. Le Hoai Trung and standing deputy province chief of Guang Dong, China - Mr. Lam Thieu Xuan had mutually presided the seminar of trading cooperation between Vietnam and Guang Dong province, China.
In the seminar, two parties agreed that along with the development of comprehensive strategic cooperative partnership relationship between Vietnam and China, multifarious relationship among departments of Vietnam and Guang Dong, China have got a lot of achievements, especially economy - trading.
Deputy Minister Le Hoai Trung also affirmed that policy of Vietnam Government is to appreciate the neighborhood relationship between Vietnam and China; to desire to promote the profitable cooperative relationship with China in general and Guang Dong in particular, to mutually develop firm and healthy.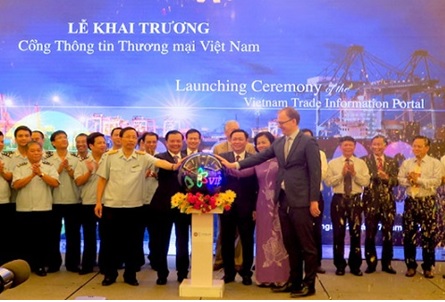 The economic cooperative signing ceremony between Vietnam - China (Guang Dong)
According to: http://vovworld.vn/vi-VN/chinh-tri/hoi-nghi-lan-6-kiem-diem-tinh-hinh-hop-tac-giua-viet-nam-va-tinh-quang-dong-trung-quoc-560323.vov
Collector: Nguyen Thi Nhan Thao Translator : Nguyen Tran Thai Hoa