On May 30, the Government held an online conference of reform the administrative work in 6 beginning months of 2017 and announcement of administrative reform index in 2016 from Ministries, departments, People's Ministry of cities and provinces. Deputy Prime Minister of Standing Government Truong Hoa Binh, head of steering committee of administrative reform presided the confererence. In Tien Giang, Mr. Tran Thanh Duc - Deputy Chairman of People's Committee and other leaders of departments attended the online conference.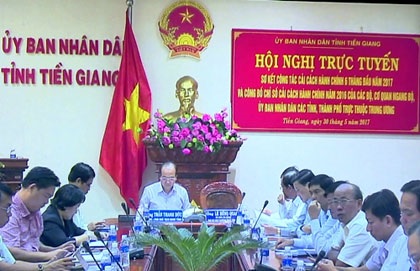 The view of conference in Tien Giang
Governent showed that in the 6 early months, members of steering committee consulted for Government to issue documents of administrative reform with the focus on promoting business environment, encouraging startup and developing business, enhancing the productivity, quality, effect and competition; improving discipline, completing the socio-economic development targets.
Mr. Truong Hoa Binh - Deputy Standing Prime Minister and head of steering committee of administrative reform expressed that ministries and departments need to implement the reform work; to grasp thoroughly instruction of Prime Minister, simplify the procedure according to the law... It creates conditions for people and enterprises.
(Theo:http://tiengiang.gov.vn/vPortal/4/625/1205/108608/Hanh-chinh/Hoi-nghi-truc-tuyen-So-ket-cong-tac-cai-cach-hanh-chinh-6-thang-dau-nam-2017-.aspx)
Author:Pham Thi Ngoc Chon Translator: Nguyen Tran Thai Hoa